This Valentine's week there are several things in beauty that I'm loving which will work for your Valentine's Day beauty look. For example, the Lancome Spring Collection has La Rose À Poudrer as part of the collection and it is stunning. I don't recall seeing 3-D beauty like this ever before. It's an iridescent blush illuminator. Inside the round box that is like a gift all its own, is a silk rose that you can take a brush (they offer a brush for purchase) and swirl around on the flower and then apply the highlighter to your face. It's a very light pink shade that highlights and illuminates. Beautiful.
Lipsticks are always popular at Valentines time and these Giorgio Armani Lip Maestro Notorious Lipsticks will certainly get you noticed. They're bold and they're beautiful. Such a unique texture as they are a matte lacquer that will get you noticed! They are more liquid than a lipstick and thicker than a gloss. Created in mind of the powerful, glamorous women in Hollywood who are confident and bold. Shown is shade 518 and shade 408
Want a creamy, glowy cheeks? Then Bobbi Brown Cheek Glow Palette is the way to go. A duo compact that has Pot Rouge for lips and cheeks on the bottom and a creamy glow-highlighter on the top. This one shown is Bare highlighter and Desert Rose Pot Rouge. Bare is a rosy bronze shade and Desert Rose is a mauvy pink shade. Both are sheer and will give a gorgeous glow.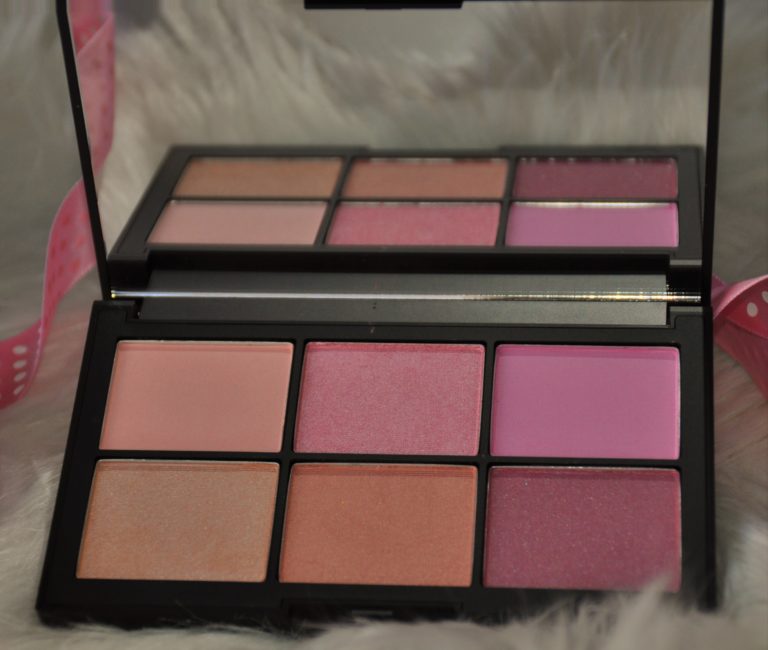 Don't like cream blushes? Then this Nars Narsissist palette offers so many beautiful options. This is the lighter toned palette, Unfiltered II. I love the darker tone one, too, but the shades are just too dark for me. It comes with 6 shades of pinks and golds for the cheeks that are in matte and soft shimmer textures. It's so easy to create countless looks with these shades. You'll for sure glow by candlelight with these! On the top row the shades are Conquest, Undefeated, Power Play and bottom row are Hot Sand, Fame and Candid.
Be sure to follow Fab Over 40 on Instagram!