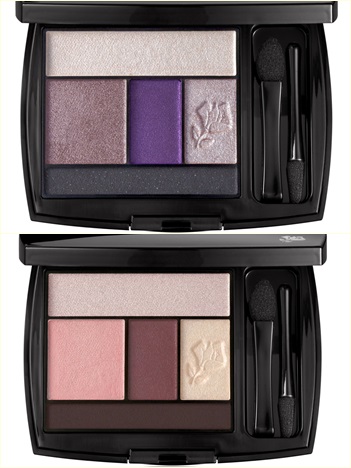 Lancome Spring 2014 Collection is named French Ballerine after the timeless beauty of tulle and roses, the hush of the orchestra, and the thrill of a flawless performance in a classic yet contemporary new ballerina-inspired collection.  There are a lot of shades in this collection that are wearable for women over 40, including both the Color Design 5 Pan Eye shadow palettes shown above.  I personally like the palette on the bottom, Dancing Rose and will share images of those below.
This spring there seems to be a lot of pinks and corals – in both soft and vibrant shades from many makeup brands and they can be hit or miss depending on the tones of the pinks and corals and Lancome seems to hit the mark this season. While some of the Rouge in Love lipstick shades may be a bit vibrant for my tastes, they can work with some of the more nude shades mixed in.  The nail colors from the collection are fabulous as well. The shades of pink make me think of beautiful spring days that we are all longing for after this looooong, cold winter.
I can see this Dancing Rose eye shadow palette easily becoming one of my go-to palettes no matter the season.
Several of the Color Design 5 Pan Palettes have too much high shimmer and glitter for my personal tastes and for women over 40 in general. However, Lancome seems to have heard us and are now adding some mattes and less high shimmer to their palettes making them more eye shadow friendly to us.
The shadow in the top of the palette is a very sheer nude/pink with a tiny bit of shimmer. It's so light and natural that it blends into my skin nearly invisibly. The far left shade in the palette, a medium rose that has some shimmer to it, but the shimmer disappears when used, making it a soft matte shade.  The center shade is a brown/burgundy shade that has a slight bit of shimmer as well, but again softens out to a more satin finish when it's applied.  The third shade on the middle row of the palette is more high shimmer champagne shade. That shade works well on the inner corner of the eye to brighten the eye area up, this isn't something you want to use under the brow bone, it's just too shimmery. Then the liner shade is a black/brown with some burgundy in it, a nice alternative to a standard black shade.
The Rouge in Love lipsticks are a creamy soft texture. They look matte in the tube, but don't apply in a flat matte look. On the left is Peche Passion and the right is rosy Rouge.
Gloss in Love is a long-wear gloss that has a hint of sparkle to it and has a cooling feel to it.  The doe-foot applicator has a "scoop" shape to it that follows the curve of your lips. On the left is Rose Oscar and the right is Glitter Mania.
Shown above from top is Peche Passion, Rosy Rouge, Rose Oscar and Glitter Mania on the bottom.
Here I've mixed a few lip shades.  On the top is Peche Passion and Glitter Mania mixed and on the bottom is Rosy Rouge and Rose Oscar mixed.  I like these mixed combos.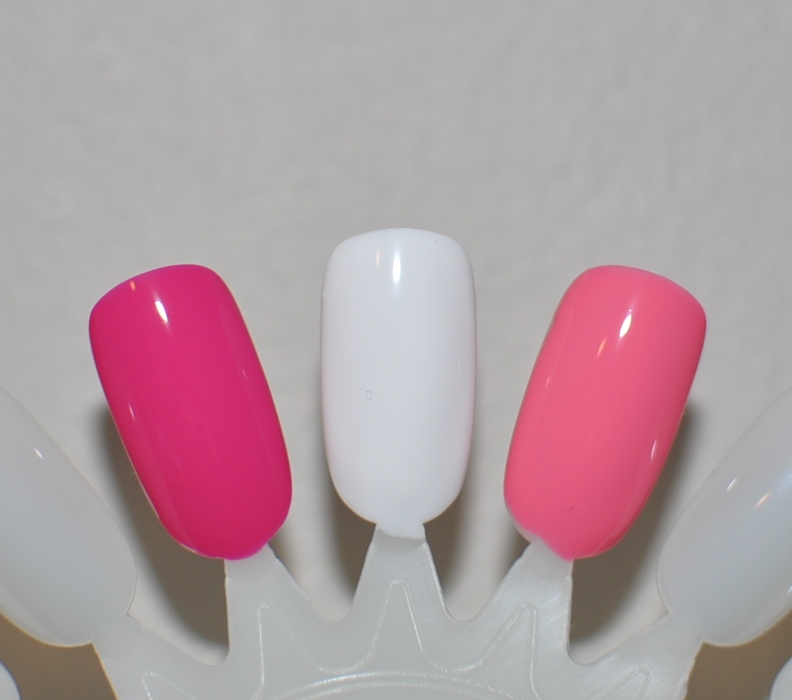 The nail shades shown above starting on the left, Rose Satin, in the center is actually a white undercoat and color booster. I have a feeling this may be used alone as well. On the right is Jolie Rosalie. Do these make you long for spring like they do me?
Overall I like this Spring 2014 collection and think there are many color options and shades worth checking out.
PR samples received for consideration of review. All opinions are my own.