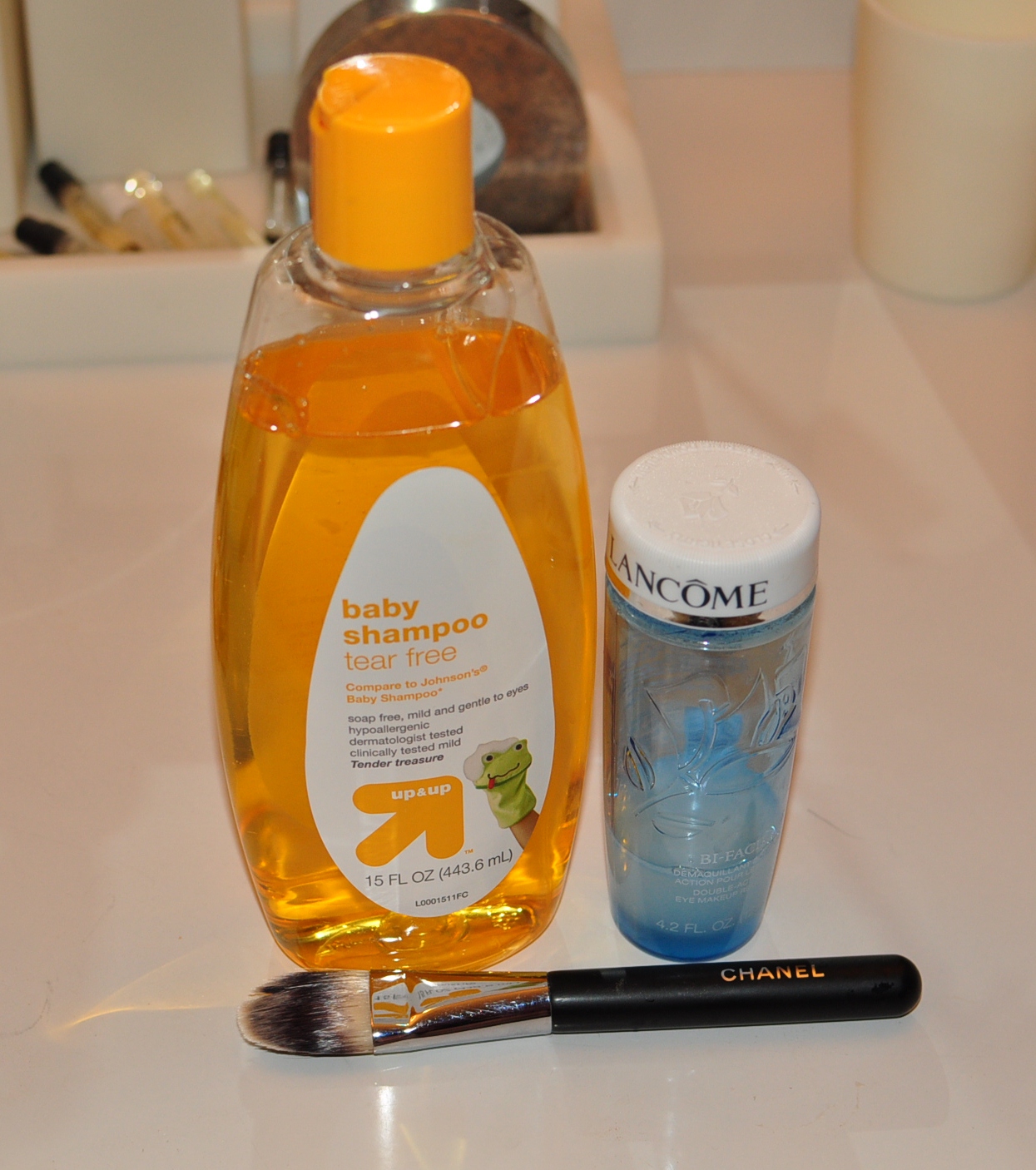 Keeping your makeup brushes clean is essential in preserving their longevity and getting the best performance out of them. Most of my brushes I've had over 5 years and some over 15 years. Makeup brushes should be washed at least once a week and a foundation brush or any synthetic brush, or brush that you use with a cream formula product should be washed more often. The product sticks to the brush hairs and can harbor bacteria which in turn can cause issues with your skin.  
A foundation brush can be more difficult to clean than a typical powder use brush. General soap and water doesn't always get them fully clean.  Above are the products I use to clean my foundation or synthetic brushes. Here are some step by step instructions on how to clean a foundation brush. 
Click on "Read More" at bottom of the post to follow along.
First, what NOT to do – do not wet your brush by angling it upwards into the water. This will only damage the brush by loosening the glue that holds the bristles in place, causing the bristles to fall out and permanently damaging your good brush.
Dampen the brush with warm water.  Cold water prevents the liquid trapped in the bristles from breaking down or loosening up. Remember to angle the brush downward under the water.
Use a squirt of baby shampoo.  Any generic, gentle brand will do.  I use Target brand as it's inexpensive and effective.
Take the dampened brush and rub it back and forth in the palm of your hand with the shampoo.  (This image may look awkward as I was trying to take a photo while trying to demonstrate).  While swirling it around in your hand the product breaks up and the brush gets cleaner.
Squeeze out excess soapy product while running the brush under the water – remember, angle downward. You can gently spread the bristles apart to get it clean in between them.
This is where liquid or synthetic brushes get tricky.  They are difficult to get all the product out – as shown above.  It looks much cleaner, but there is still product trapped in there and even after following the above steps a few times, product can be stubbornly attached to the bristles.
This is where that extra step is important.  Take eye makeup remover and soak a cotton pad.  Yes, eye makeup remover!  I like using my Lancome BiFacil as it's gentle, but very effective. Using an eye makeup remover that also removes waterproof eye makeup will assure that it will break down all the remaining trapped product without being harmful. I once read that someone said they used turpentine to clean their brushes!! WHAT?!  Never use turpentine to clean your brushes.
Gently press your brush into the cotton pad that is soaked with eye makeup remover.  See how my foundation brush looked clean earlier, but yet there was still plenty of product trapped.  The eye makeup remover loosens up the trapped product.  After using the makeup remover you will want to gently wash/rinse the brush again to remove the last remaining traces of eye makeup remover and liquid.
Now that is a clean foundation brush!