Packaged in a beautiful gift box, this Liz Earle Superskin Face and Body Essentials leaves your face and body feeling incredibly soft and moisturized.  $77.50
Laura Mercier Souflé Body Crème Sampler is four 3 oz sizes of the ultra-rich body cream in Fresh Fig, Almond Coconut Milk, Crème Brûleé and Crème de Pistache for $50.
Yardley soap for Christmas?   It's a great stocking stuffer at less than $2 per bar, which feels and works like those luxury bars of soap that can typically sell for about ten times more the price. 
For the natural beauty enthusiast, Galen Labs has several gift sets including this 12 Element Travel set.    Refillable, travel sizes of 12 Elements Cleansing Milk, Shea Cream, Rose Hydrosol and Cucumber Jojoba Gentle Exfoliant.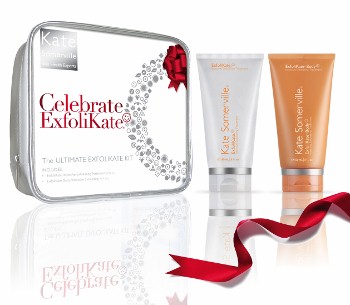 As a huge fan of Kate Somerville ExfoliKate this set is an exceptional value that shouldn't be missed.  This kit is a 5 oz size each of the famous face and body exfoliant which would normally be $175 each, but the whole set is $165.   And now on www.KateSomerville.com when you buy $200 worth of product, you get a free 5 oz ExfoliKate Gentle. Enter code HOLIDAY10 at checkout. 
This Liz Earle Cleanse & Polish Limited Edition 15th Anniversary set is $32.50, and packaged in this cool tin.   There's no faster way to beautiful skin than starting your skin care routine with an award winning cleanser.
Want to escape to paradise for the holidays?  Juara Beyond Paradise set will take you there – or at least make your skin feel like it's in paradise.  This specially priced candlenut shower gel and body balm is only $45.  That's cheaper than any flight, and you won't get jet lag.
Because everyone needs a little laugher in their lives!  SpaceNK Laughter Nuit bath and shower gel set will add a little evening sexiness to your life.  $110.
Daub & Bauble for body and home. With great scents Monterey Cypress & Quince, Mission Fig & Thyme, Sorrento Lemon & Ginger, Tarocco Orange & Clive your senses will be invigorated and your skin will be cared for with ingredients like shea butter, Vitamin E, avocado butter and more.
Want to know Liz's secrets to beautiful skin?  Get her book Liz Earle Skin Secrets to learn all the ins and outs of beautiful skin.