OK, let's dish on the women over 40 and their looks from last night.   Some were great – others were merely OK, and some you have to wonder what they were thinking!    Some people don't like to "criticize" looks, but when they're on the red carpet they're dressing to be seen, which in my opinion leaves it open for criticism.   I don't care what a star wears when they are out and about wearing sweats to the grocery store or taking the kids to school – but red carpet is open territory!
Melissa Leo looked fabulous last night and I'm so happy she won.   Have you seen her in The Figher?  She does an amazing job.  A few years back she was up for an Oscar and she looks 10 years younger in this dress, hair and makeup than she did a few years ago.
Nicole Kidman looked lovely, but rather boring.   Rumor is she has a baby bump?? (Funny, just read she and Keith Urban welcomed a new baby girl on Dec. 28th!)  She's so pale that I would love to see some color on her.  Remember that Dior by Galliano dress many years ago – stunning.  I'd love to see her in a fabulous dress like that again.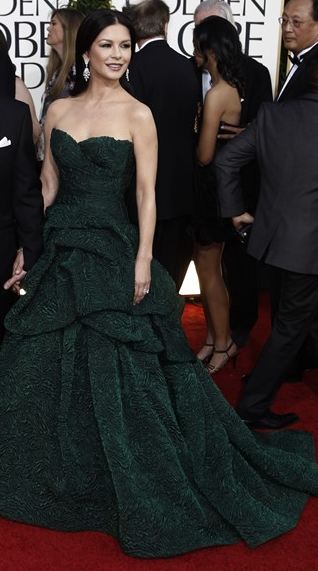 I love the color, not the dress, that Catherine Zeta Jones is wearing.   The fabric looks so heavy – almost like carpet!   And her hair is blah.   For such a stunningly beautiful woman, this dress simply doesn't enhance her features.   Michael looked wonderful for all he's gone through, and we wish him the best.
This horrible image of Sandra Bullock is seared in my mind and I need it to go away!   She is amazingly beautiful, but what's with the clip-on bangs with the curling iron ring at the ends.   The whole hair thing is bad, bad, bad.   Dress would have probably been in a category of beautiful, but when you wear your hair like this, it takes away all the beauty of the dress.
Tina Fey's hair and makeup – nice, dress – not so nice.   It looks like a velvet pillow from grandma's house with the ruffled edges.  It's not like she's a newcomer to the red carpet so would someone please tell her she needs a stylist!    ASAP!
The last two red carpet events that Rita Wilson has been to have been disasters.   This from a woman who was on Oprah telling women how to dress!    It's better than her Prada disaster last time, but please, cover the girls up a bit.
Julianna Margulies wears a structured dress well, and this is no exception.   I'm not so sure of the stark contrast betwen the black and pale pink, but she looks nice.   Some bold earring or a bold necklace would have topped it off a little better.
I love Kyra Sedgwick and she typically can do no wrong in my eyes.   I absolutely love this shade of tangerine on her, but I'm on the fence about the overall style of the dress.   And what was with her all night leaning into Kevin like this?  Even during the award show, every time they'd show her she was leaning into Kevin's lap like she was ready to fall asleep.
Another dress I'm on the fence with – it would be lovely if she was say, 70, or even got rid of the cape thingy.   I'm really over her look of ponytail, silver eye shadow and lips so nude it looks like she doesn't have any lips.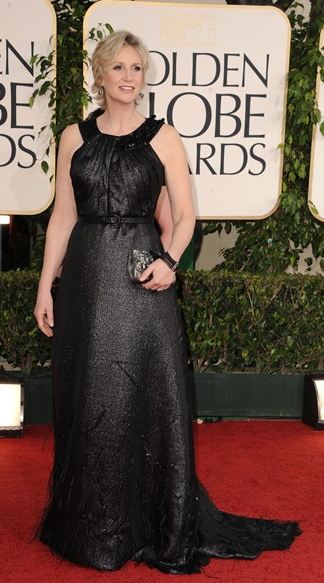 Jane Lynch, sorry, but this dress does nothing for you.  And what are those stringy-feathery things randomly sticking out towards the bottom of the dress?  Her hair and makeup look nice though.
Helen Mirren is so beautiful.  Her hair (is it cut or pulled back) looks lovely, and makeup is so tasteful.   I just don't find this to be one of my favorite dresses she's worn. 
All I can say is "no" on so many levels.   Helena Bonham Carter – well, I just can't say what I want to say – it would be too rude.
I love this dress on Annette Bening, but from the neck up, not so much.   Hair – a bit too casual and wild for a formal event, glasses, could have been left for reading only, and makeup, rather blah.   She's a beautiful woman, I just wish she would have shown it a bit more.
Edie Falco's dress works nicely for her figure and I like the red color.   But, I would have liked her makeup and hair to have been a bit more interesting.
Halle Berry is beyond stunning.  Her face, her body, but that dress!   it looks like she's wearing her undergarment and then threw on a sheer sarong because well, that might make it seem more "formal".   Not good at all.   With here severe hairstyle (which I love) her dress needs to be a bit softer to compliment it – otherwise it's all too harsh. 
I like how Julianne Moore takes chances with her red carpet looks, but I do not like this dress at all.  It looks like the sleeve was a complete afterthought.   I like her makeup and hair though.  
Yes, Jane Krakowski, we know you're pregant.  You can now let go of your belly!   But, she did look lovely in this gown and her earrings, hair and makeup all hit the mark.  
Katey Sagal looked lovely wearing this orange long sleeved gown.  Simple, yes, but I can't imagine her being all frilly and fancy.  She looked truly surprised in winning and she does an amazing job on Sons of Anarchy. 
Michelle Pfeiffer looked stunning presenting last night.  But apparently no one took a photo of her, as I can't find a single one from last night!
I could go on with some other dresses for women that were under 40, but we'll stop here.   I'd love to hear what you think?
Images:  Just Jared, MSN