Favorite Fall 2012 Lip Shades Chosen by National Makeup Artists and Brand Owners 
What better way to know what lip shade to get for Fall 2012 than to go to the experts, which is exactly what I did.  I asked several National Makeup Artists and brand owners what is their favorite lipstick and/or gloss for fall and why?  Here are the answers I received.
Giorgio Armani Beauty 
Tim Quinn, Celebrity Face Designer and National Director of Creative Artistry for Giorgio Armani Beauty chose #408 Rouge d'Armani lipstick from the Fall 2012 Collection.  It's an amazing berry plum that complements most any skin tone – it perfectly embodies the romantic modern slightly edgey look seen on this seasons runways.
 Dior
Jeffrey Sanchez, Dior National Makeup Artist said, Dior Nude Rouge Lipstick. There are two colors that I absolutely love Charnelle and Grege. I find that there is this look that is ingrained into a lot of clients minds that fall means….dark matte lips. This is not the case. Some of the most beautiful looks for fall this year are about intense eyes and velvety warm and cool nude lips. You have to remember that with seasonal looks there is also an attitude…a state of mind to be considered…and with my fave Dior colors it's all about sophistication and true elegance.
Charnelle and Gege from the Nude Blush Collection give a very rosy warm glow to the lips that also offer amazing hydration and plumping effect. Who doesn't want fuller lips AND keep lips feeling quenched for the drying effects of fall to winter.  Now when it comes to gloss…Evening Rose and Beige Tweed are two winners! One is a soft sheer berry and the other a multi-faceted beige nude (with hints of pink, soft gold and even soft peach). These Addict glosses give instant volume and can be layered over a HUGE range of lip tones.
(Top: Charnelle #459 and Beige Tweed #227, Bottom: Grege #169 and Evening Rose #756)
Lancome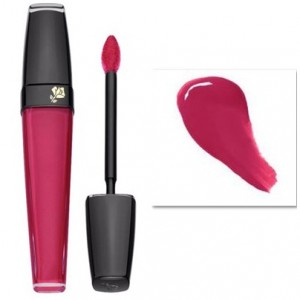 Alex Sanchez, Lancome National Makeup artist said, My favorite fall lip is Creme de Mat in Magique Pourpre #300. It is part of our fall Midnight Rose Collection.  It is a gorgeous bright wine color and it is matte finish which is really on trend for fall. I love it because it has a creamy and velvetly-stained finish. It also looks great on all skin tones and the blue-based color also brightens your smile beautifully.
In the collection there is a matching nail color as well as a cool matte finish top coat you can add to polish to give it a very cool etched glass effect. I especially like the matte top coat layered over pale colors. . . it gives your nails the look of frosted glass.
Jouer Cosmetics
Christina Zilber, Founder and Creative Director of Jouer Cosmetics said, "Fall is the perfect time to transition into deeper and bolder lip colors.   I love Jouer's Moisturizing Lip Gloss in Exquisite (a creamy deep rose) and Hydrating Lipstick in Lola (a sheer dusty rose).   A bold lip should only be worn with light eye makeup, so if you want to wear a smokier eye stick to a nude lip.  For the natural look, I recommend Jouer's Hydrating Lipsticks in Gigi (a creamy true nude) or Dusty (sheer true nude) and our new Moisturizing Lip Gloss in Nude (launching September 2012)."   L-R Exquisite Gloss, Lola Lipstick, Gigi Lipstick, Nude Gloss, Dusty Lipstick.
Le Metier de Beaute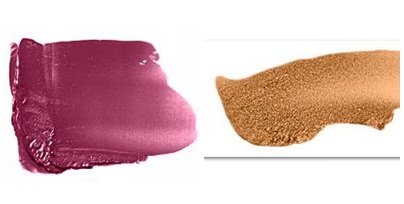 Dustin Lujan, National Makeup Artist for Le Metier de Beaute had this spin on his lipstick and gloss picks for fall. Castelo Lipstick is a great multidimensional plum which gives you a great fall plum without going too deep. Toffee Creme Gloss adds the perfect balance to the cool tones in Castelo to make the lip look full. These are great because you can be on trend without going over the top! And remember cool and warm colors together make a fully balanced lip. So never match your gloss to you lip color.
Exude Lipstick
Via Twitter I asked Exude Lipstick what is their favorite shade for fall – here's the response I received. Plum is a perfect fall color, slightly subdued but still warm. It looks great alongside everything from autumn brown and orange to primary colors.