Estee Lauder Fall Collection for 2010 is called Blue Dahlia.  When I first saw this model shot I knew the blue eye shadows weren't for me.   I'm just not a blue eye shadow person, except I'll use a dark navy blue liner.   Then I saw that the collection also had a series of colors in the violet shades called Surreal Violet.   Now that's more like me.   Shown below is the whole new collection.  On the right side are the Surreal Violet shades and this is what my focus will be on.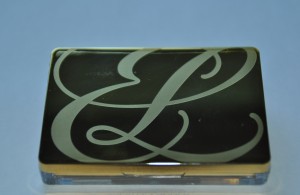 I am officially a fan of their new packaging since Tom Pecheux has come aboard.   It needed modernizing, yet honoring the Estee Lauder traditions and this hit the nail on the head.   The square compact with the rounded edges and how the logo is embossed is lovely, along with the touch of modern is the clear acrylic base. 
The eye shadow palette Surreal Violet is a 5 shadow palette that you can create a number of looks with.   Clockwise from bottom left the shades are a soft shimmery pearl color with just a hint of pink, next is a medium lavender, then a grey with lavender tones and along the bottom is a medium to dark purple and in the center is a greyed plum.   No matter how many photos I took in different lights and different settings, the medium to dark purple shade always photographed blue, so it must have a strong blue undertone.  
I've worn a few different looks with this palette – soft or a purple smoky eye, which is a nice alternative than a dark black or blue smoky eye.   For a light eye, use the pearl all over and the lavender on the lid – line with the center color and it's a soft pretty look for day or evening.   If you want something more intense, put the lavender on your eyelid and in the crease put the darker purple shade.  On the inside corners make your eyes pop with the pearl shade.   Line your eyes in a black liner and top that with either the grey or plum shades to soften the black out.   Both of these looks really made my green eyes pop!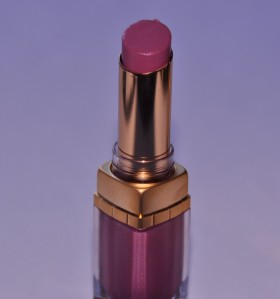 The Gloss Stick is a soft mauve/lavender shade called Mauve Mirage.   There is a slight shimmer to this and the Gloss Sticks are always so soft and creamy.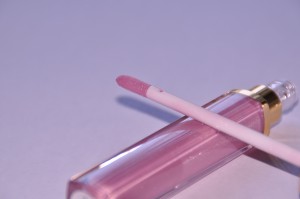 This gloss shade is called Star Pink which is a clear lavender with some pink in it.  It's very sheer and can be worn alone with a barely-there look or on top of the Gloss Stick for a hint of shine. 
Overall, I really like this palette – more than I thought I would.  However, I get the darker shades for fall in the Blue Dahlia palette, but I see this Surreal Violet as more of a year-around color palette, making it more versatile than at first glance.   The whole collection is available at counters and online now. 
Eye palette and lip products were sent to me by Estee Lauder.