Like the warm weather that we know will arrive, we can count on Estee Lauders Bronze Goddess collection to keep us looking like we've been on a tropical island for weeks.
This year the Bronze Goddess collection takes its cue from the remote Caribbean paradise.  The shades of sandy beaches, shimmering waters and bursts of color like exotic fruits and flowers round out the collection this year.
Here are my images and swatches of the eye shadow palette Batik Sun.  
From left – nude, the lightest shade is barely visible on my skin and is great as an overall shade. There is slight shimmer to the color.  Next is the sand shade and is great for on the lid part of the eye.  The tangerine and turquoise shades are fun to play with in various ways – in the crease of the eye, as a liner, explore!  The chocolate brown is a shimmery plum brown that also is great for a liner or in the crease.
There are four new limited edition lip shades – two new Pure Color Long Last Lipsticks in Fuchsia Fever and Solar Crush, along with two new Pure Color Sheer Roller Gloss with a new rollerball applicator, in Squeeze and Succulent.
Of course with Bronze Goddess we can't forget the powder bronzer and the liquid one as well.
The powder compact is large and comes with a brush  that works to give an overall even color of bronze to the face and body.  If you want a more luminous look with a bronzer, the liquid formula is the way to go.
The shimmer powder, Heat Wave, is a golden high shimmer powder that has a hint of rose gold in it.  It comes with a sponge applicator for precise application

On the left is Heat Wave shimmer powder and on the right is the Light shade of Bronze Goddess powder.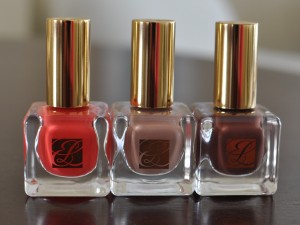 For the nails there is a limited edition shade called Hot Spell (L) that's almost a mango shade. Two new shades added to the collection that are not limited edition are So Vain and Diabolique
Overall, I think many pieces to the Bronze Goddess Collection for 2013 are going to be go-to shades for the spring and summer and the pops of color are a fun addition to take it to a more exciting level.