Remember when as a child you were told to "Be bold! Be brave!" when someone wanted you to step out of your small world of comfort? Giorgio Armani is asking the same of us as grown women. Be bold! Take command of the room when you walk in! Be proud of who you are! His way of interpreting that is with the famous Lip Maestro lipsticks now made into this new Notorious liquid version. They are daring and bold and pretty damn beautiful I might add.
If you're watching any of the awards shows lately, you'll notice a lot of beautiful, bold lips and they look gorgeous. I'm sure many of those lipsticks are by Giorgio Armani. This Lip Maestro has a velvety texture and while they are matte, they are not a flat, dry matte. They are a luminous matte that is not drying to the lips at all. It's like a creamy, cushiony matte lipstick and a luminous gloss came together to create this sophisticated look. With the new technology this matte is not flat, but has light reflecting spheres so it's not dull at all, just bold. For me, it's a great break-away from my typical neutral shades that I tend to wear. And when I do decide to go bold, I always get compliments.
The six shades include an iconic red, #408; an orange #301, and four shades of pinks in #515, 516, 517, 518 so they work with many skintones.
The tilted foam applicator makes applying these so effortless.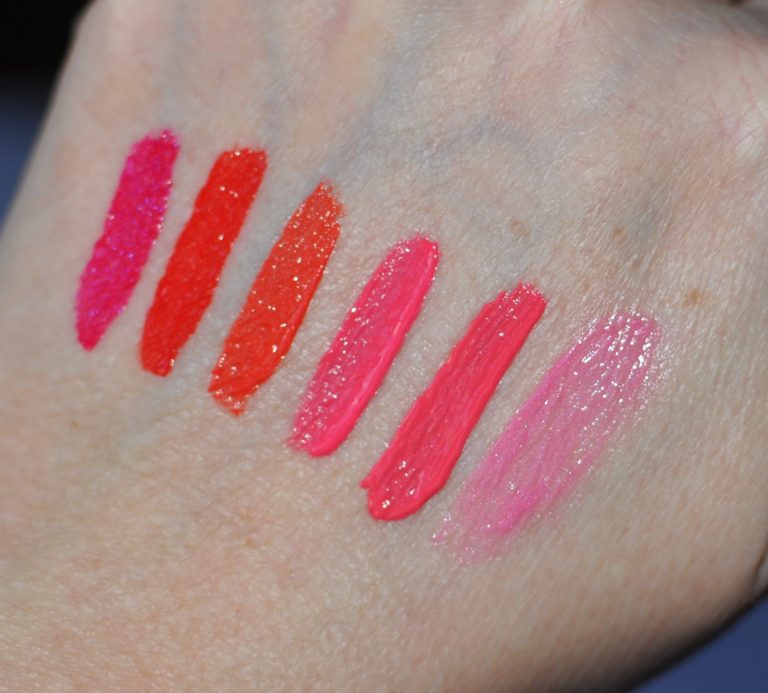 Swatched on my hand, the shades from left to right are: #517 Maharajah, #408 Notorious, #301 A-List, #515 Dress Code, #516 Spotlight and #518 Paparazzi Pink. The two shades that are my favorites and have worn several times are #518 and #516. My next foray into boldness will be with #517. One additional thing is that they last a really long time, and when they begin to wear off, they leave a beautifully stained shade on the lips.
These are available now at Giorgio Armani Beauty and while I haven't seen them online at the finer department stores, I'm going to guess that they'll be available soon there as well.