This fabulous set is exclusive to Nordstrom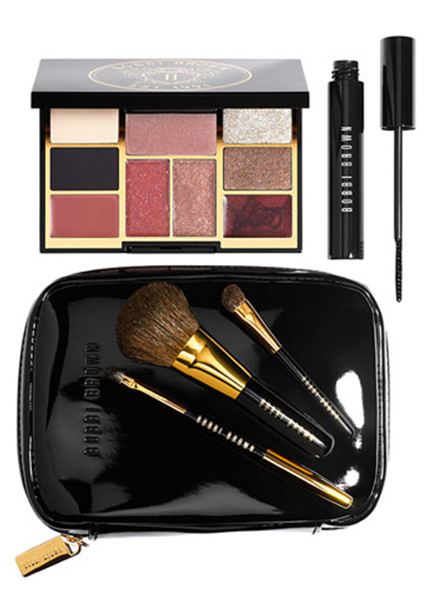 For some reason or another I've been remiss about talking about Bobbi Brown for Holiday.   I like the Modern Classic Lip and Eye palette, but it was already talked about everywhere and even though I liked it, I didn't love it.   Several of the colors wouldn't work on me so it was difficult to get enthused.   
And sorry to say, the other quad palettes just seem like a repeat from the last couple of years, but in new packaging.   Again, lovely, but wasn't enthused.
That is until I saw this palette, Holiday Glamour Set.
This palette includes four eye shadows, two lipsticks, two glosses and one blush.  There is also a full-sized Everything Mascara in black and three miniature brushes which include a mini blush, a mini angled eye brush and mini capped lip brush.   All this is housed in a zip patent case for $100.
The eye shadow shades are Ivory and Caviar (on the top and middle left) Twinkle Sparkle (new and quite sparkly) and Velvet Plum Metallic (top and middle right).   The blush on top center is the shade Blushed and the two lip glosses below are both new and in shades Pink Bouquet Shimmer and Pink Mist Shimmer.   The lipsticks are Sandwashed Tulle (bottom left) and Ruby Metallic (bottom right).
If these are shades that work for you, literally everything you need is housed all in the case.  Even the shadow brush is a great size and I like the slight angled of the brush, and the fact that the lip brush is covered so there is no worry about lip smears all over the case.
Now this is one holiday set I may have to consider!   If you don't have a Nordstrom near you, you can call 952-883-2121 and one of the lovely associates at Bobbi Brown will be happy to assist you.
I received a great tip from a reader today that Thursday, Bobbi will be on QVC from 7-8 pm EST and this set will be shown!