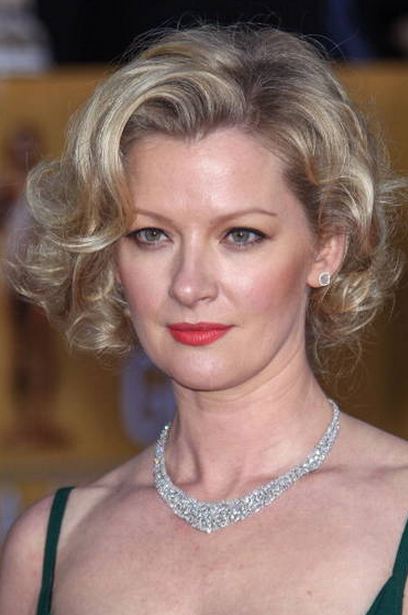 Gretchen Mol, in Boardwalk Empire, attended the 2013 SAG Awards looking very lovely and wearing (mostly) Giorgio Armani makeup.  Makeup artist Daniel Martin created her look for the evening.
INSPIRATION:
"Gretchen's look was inspired by Marilyn Monroe from a story in Life Magazine in 1952. Her disheveled yet glamorous look makes for a classic approach to today's modern style," says Martin.
PRODUCTS USED:
Complexion: 
Giorgio Armani Maestro Foundation in #5
Giorgio Armani Fluid Sheer #2 Shimmering Beige
Giorgio Armani Maestro Eraser in #3
YSL Poudre Sur Mesure Loose Powder #3
Giorgio Armani Sheer Blush #10 Beige & #6 Light Rose (to sculpt and shape the cheeks)
Eyes:
Giorgio Armani Eyes to Kill Quad in Bourdoir
Urban Decay 24/7 Waterproof Liquid Eyeliner in Perversion
Giorgio Armani Eyes to Kill Waterproof Mascara
L'Oreal Brow Stylist Brow Pencil
Lips:
Giorgio Armani Lip Maestro in #300 mixed with Lip Maestro #504
Daniel also has offered some application tips to make the products look their best when on camera. I would imagine these tips work well for still photography as well, not just TV.
APPLICATION TIPS:
-Mixing one pump of the fluid sheer to 2 parts foundation, creates a subtle glow to the skin without looking greasy on HD TV!
-To make small eyes appear larger on screen, concentrate depth at the base of the lash line and work your way up and out.
-Applying concealer on the lips not only cancels out tone and brightens your lipstick, but it also makes the color last longer.
-If you like color on the apples of your cheeks, use shades of pale pinks or pink beiges to brighten the complexion. Warner tones can read sunburn or cold (if not applied correctly) on camera.