Ted Gibson, über stylist with the most expensive haircuts in the industry at $950 a pop, is acknowledging with the rest of us that the economy is in the tanks.
Ted's eponymous salons are in New York City on 5th Avenue and a recently opened location in Washington D.C.   The "Recessionista Tuesdays" will only be taking place at the 5th Avenue Salon.
So what is this "Recessionista Tuesday" you say?   Well starting March 10th, show up to the NY salon and anyone from the Ted Gibson team will cut or single process color your hair for only $75.    A blow-out will only be $40 – Tuesdays only.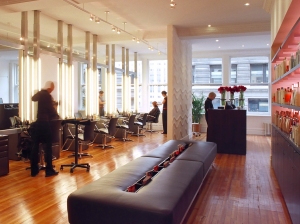 Ted is also giving away a FREE HAIR MAKEOVER WORTH $950 to one winner of a raffle on March 10th, to celebrate the kickoff.   Just show up to the salon between 10 a.m. and noon and fill out a registration form or drop off your business card to be eligible for the drawing.
Oh how I wish I was in NY on Tuesday, but now that I think of it, I'm certain the line will be down the street – maybe it's a good thing I will be in NY next month instead.  I think this does qualify as "Beauty on a Budget".