Work and work out with a fit ball.  Guest post by Melanie Kasper and Michelle Detweiler from Society Wellness – Where Great Things Come From Health!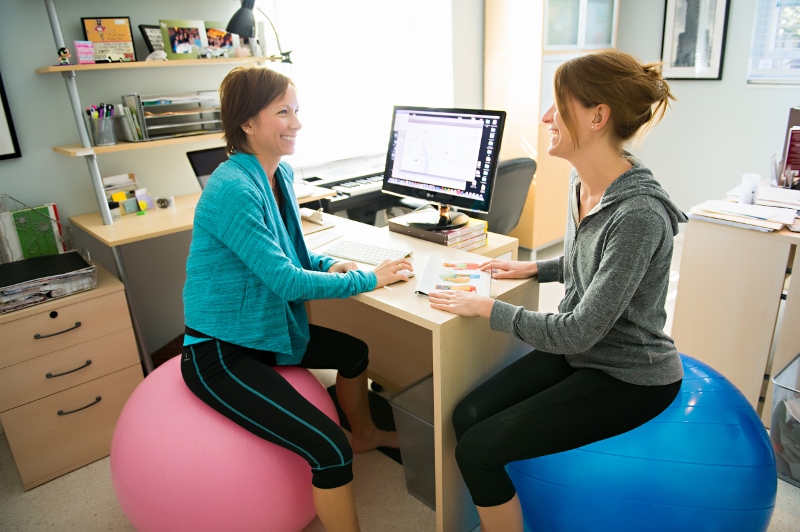 The benefits of using a fit ball as an office chair are great. You are maintaining perfect posture and spinal alignment and working your core while seated doing office work! A multitasker's dream! Other benefits include that they are inexpensive, they come in pretty colors – a great way to brighten up a room, and they can be multi-purposed; a chair, a workout tool, and a toy for kids and dogs.
More and more research shows the importance of getting up from your desk a few minutes every hour for overall long-term health. Here are 10 exercises you can do with the ball either individually or altogether as a full body workout.
Take the arms overhead, reach as high as you can stretch and take 5 deep breaths
Open the hips with a wide stance and take a side stretch reaching up and over, do 2-3 times on each side
Crunches – place your lower and mid back on the ball, walk your feet out far enough to feel stability. Do regular gym-style crunches keeping your lower back attached to the ball throughout movement. Exhale up and inhale back, go back as far as you feel strong enough for. Work up to 50+ reps.
Stretch out the core and firm up the gluteus by placing your upper back on the ball walking your feet out far enough to create a 90 degree angle knee bend with the gluteus OFF the ball squeezing up to create a straight spine. Hold up to 10 deep breaths.
Back extension – place your belly on the ball with legs wide and firm, hands behind your head. Lift and lower the upper body in a comfortable range of motion to strengthen your lower back. 10-20 reps, 2 sets
Spinal balance – good for balance and coordination as well as back and core strength. Depending on how tall you are, the belly, hips or upper thighs will be attached to the ball. Opposite arm and leg lifting – inhale the lift, exhale the return, switching each time. Focus on creating lift and length and balance!
From spinal balance move hands firmly to the floor allowing the ball to roll toward the thighs, perform a classic push up, arms wide elbows out, exhale up inhale down. Do as many as you can.
For a full body stretch try a gymnastics bridge with the help of the ball. This one is fun and rejuvenating, but can be scary for some. If you work at it slowly, maybe on carpet or with help from a friend, you will love it. From the position you were in earlier for crunches, just place your whole back on the ball and float the arms overhead. As you walk your feet toward the ball it will push you back toward the floor, eventually your hands will touch. Hold up to 10 deep breaths.
For an inner and outer thigh work out – lie on your back on the floor place the ball between the feet, legs straight up in the air. Twist the ball back and forth so the right foot comes in front then the left. Keep you lower back pressed against the floor. Practice this so you can do 20 repetitions, and good luck.
Killer gluteus and hamstrings – lie on your back on the floor, extend your legs and place your heels on top of the ball, lift the hips and keep them lifted as you pull the ball toward you and push it back out. Do up to 50 reps.
Be sure to check out Melanie and Michelle at Society Wellness and follow them on Facebook and Twitter, too!
Photos from Naomi Chokr Photography