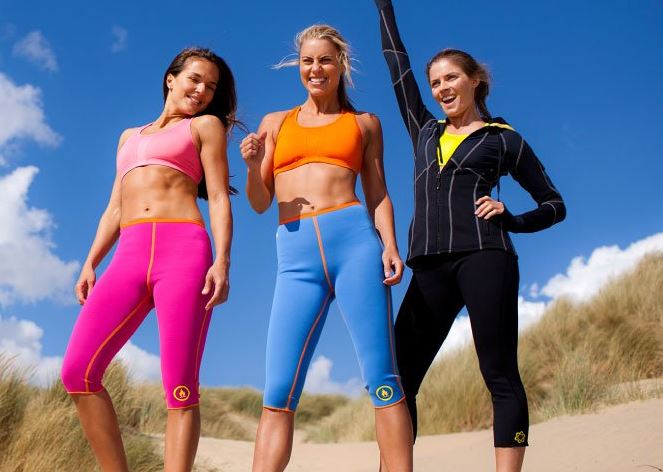 Have you heard of the active wear clothing line Zaggora? They're designed to make you sweat more and therefore burn more calories during your workout. But do they really work?  I've been testing out these HotPants by Zaggora for nearly 2 weeks now and before I tell you what I think of them, let me give you a little background on Zaggora and also my personal workouts.
Zaggora was created by a woman named Dessi who was in the banking business and was working out constantly trying to fit into her wedding dress. We all can relate to something similar, right? Well, she came up with a material that is called Celu-Lite™ that aided in her ability to fit into that wedding dress. The first product was Hot Pants and now they come in a variety of styles and additional clothing as well.  The clothing is made with several layers  – the outer layer, and a Celu-Lite™ layer which heats up the body to make it sweat more and in turn burn more calories. The clothes are made up of 58.2% Neoprene, 20.9% Polyester and 20.9% Nylon.
Currently my workouts consist of a fitness class 3 times a week and then twice a week I go on my own and workout. My fitness class is a weight training class on Mondays and Wednesdays and then on Fridays we run a 5k along with breaking it down and doing various fitness things in between –  for example; run .4 mi and get off the treadmill and do 15 incline push ups, then run another .3 mi and do 20 band curls – you get the picture. And on my own I'll do weight lifting an additional day with cardio and another day that is just cardio. It's helped me lose nearly 40 lbs since February and I'm feeling great and stronger every day.
I told the gals in my fitness class I was testing the HotPants and they were dying to know what I thought. I didn't know what to expect when wearing my Zaggora HotPants for the first time. They feel like clothing you would wear scuba diving and are a bit thicker than my regular workout pants, but it's easy to move around in them – they are not constricting in any way. For sizing, they run true to size according to their size chart. At first I didn't notice that I was getting any hotter wearing them, but by the end of class – which is an hour long, I could tell I was definitely sweating more. My legs and behind were definitely warmer and I could feel that I was sweating more. A lot more! Then after class I was standing around in the locker room and noticed that while standing there the sweat started dripping – or more like running – down my legs!  It was crazy! When I peeled off the pants (the inside is a bright yellow shade) and you could see the sweat had pooled at the bottom of the leg opening, I could literally wring it out! Sounds rather gross, right? (That was the comment from some of my fitness class gals) Well, it kind of is, but if they make you sweat that much it sound good to me and now I want to try one of the tops!
To be honest, I couldn't tell you if I've lost weight in less than 2 weeks because of the pants as I have been losing weight and inches over time. But they have done scientific studies on this and found that you burn 11% more calories while exercising and 13% more 1 hour later while wearing Zaggora clothing. Although my trainer wanted to burst my bubble and told me that I'm just losing water weight. Well whatever weight it is, I'm happy to lose it!  Bottom line – if you really want to sweat it out – Zaggora is an excellent way to do it!
Through August 21st get 20% off using the code HOTYEAR at checkout.
Zaggora Hot Pants were received for consideration of review